How to create Content Categories
Categorization keeps your content organized and helps you to schedule the right type of content at the right time. This will save your time of traversing through each post individually and scheduling it by hand.
You can segregate the in-house content into product updates, tutorials, how-to videos, or any other collection of your choice.
Navigate to Content Categories by clicking on the Settings icon located on the right top corner of the ContentStudio app.
Create new categories by clicking the "Add New Category" button. Create as many categories as you wish to classify the type of content you publish. This gives you better control over the content and helps you split it appropriately.
You can also delete the categories that you do not need anymore. Simply click the "Bin" icon on top of each category to remove it.
The Shuffle Content option is much like the shuffle option in your audio playlists. You have arranged the songs of a particular genre but would like the player to surprise you, just for a change.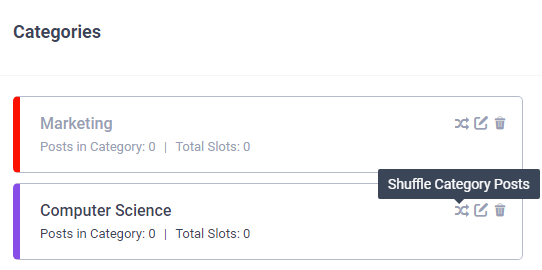 The great thing about content categories is that you can define the exact time when the content from a category will be published. This relieves you from manually setting 'publishing time' for each post you create.